What the wine industry does to conserve and manage the vineyard.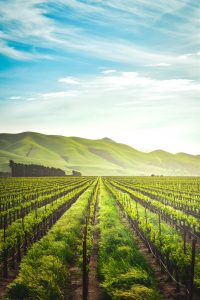 In California's Wine Country, winter is a time when brown hillsides turn green and vineyards green-up with a "cover crop". Cover crops may be a misnomer as nothing in "cover crop" is harvested. In vineyards you notice this cover crop between the rows of vines.
During the late 70's or early 80's, (exact dates are hard to pinpoint) some vineyards appeared to be inundated with what appeared to be weeds. In fact, cover crops help eliminate weeds between the rows. The greenery eye-popping colors weren't weeds; rather, a sophisticated blend of grasses, beans, oats, barley, peas, mustard plant seeds. Cover crop seeds were planted between the rows of vines with a lot of forethought.
Vineyard managers knew in the late 70's that this cover crop improved grape production for a number of reasons. In a farming environment alone, the benefits of a cover crop in vineyards include:
When tilled back into the soil they Increase organic matter and available nitrogen
Enhance the habitat for earthworms and beneficial microorganisms
Prevent erosion
Brings deep-rooted minerals to the surface
Improves water, root and air penetration of soil
Increases the soil's moisture-holding capacity
Breaks up compacted subsoil
Provides aesthetic value and color
Provides habitat for beneficial vineyard insects
Choke out weeds
Some research indicates that nutrients from cover crops have a positive impact on wine aromas and flavors.
Many people drive along picturesque wine country roads and never notice the vineyard cover crop or even the purpose of plant material growing between the rows.
Bill Frick is a small Sonoma County winemaker who owns a boutique winery and vineyard. On a winter visit to see Bill I commented on the "weeds" he had growing between the rows in his vineyard? After an incredulous look of disbelief at the comment, Bill explained, "I spend a lot of time and money to plant a perfect blend of seeds that grow what you refer to as weeds. I think It is important for all vineyard owners to plant winter cover crops to add nutrients into the soil, to eliminate erosion and optimize moisture retention during the winter wet season." I found out Bill's blend of seeds cost about $0.80 per pound and his goal is to use 100 pounds per vineyard acre.
Bill's cover crop is a mixture of hybrid seeds that enhances the quality of grapes and finally the wine. This happens by boosting the nitrogen and other soil nutrients from the cover crop plants. Vines need what these plants produce just before vines come out of dormancy. Ultimately, the combination of plants from various seeds, are cut and tilled into the soil. The plants produce more nutrients the vines need to produce grapes. Nitrogen production is the process starting in early winter.
LeBallisters Seed and Fertilizer in Santa Rosa, CA cater to the vineyard business. They advertise that a specialty blend of seeds for a vineyard cover crop can range between $0.50- $0.6o per pound, with organic seed blends costing $0.70-$0.80 per pound. The recommended application is 50-75 pounds per vineyard acre. (Vineyard acres are less than area acres-only the area planted between rows make-up a vineyard acre.) Interestingly, most of the seeds that make up a vineyard cover crop blends are grown in California's Central Valley.
I remember being taught that good conservation utilized techniques such as crop rotation and planting crops that helped control soil erosion—remember pictures of the Dust Bowl. Cover crops really aren't new to agriculture and go back to the Roman era. Virtually all crops can use the cover crop process. In California's wine country, cover crops are very important for water conservation, erosion control and minimizing fertilizer use; also adhering to the dictates of organic farming. Interestingly, it is reported in "Successful Farming Magazine-2008; a family farm in North Dakota started using cover crop techniques to enhance corn production. Further, Biodynamic farming, introduced in Germany the 1920's, promotes cover cropping in the wine business. Benzinger Winery was the first to try biodynamic farming in 1995.
Finally, ecological benefits of cover crops have already been noted. However, there are ongoing research projects from UC Davis and Oregon State University on aromas in wine. The chemistry that make aromas in wine come from cover crops? A major benefit of cover crops is the added nitrogen going to the vine roots. Nitrogen is a major component of adding aroma to wines and impacts flavors.
An Oregon State University study says, "Grape and wine quality can be manipulated through vineyard cover crop management. Each vineyard is unique and cover crop management (seed blends) will depend on many factors such as soil type, slope, vine density, water availability, soil nutrients."
"Wines from cover crop treatments contain higher levels of all aromatic compounds. Therefore, it can be inferred that cover crops should contribute positively to the aroma and ultimately overall quality of wine," says Becca Yeamans-Irwin, The Academic Wino, August 3, 2011.
Cheers!