Description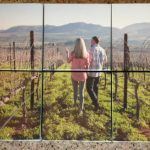 Backsplash In Quartz Tiles
Architects and homebuilders should appreciate the extract value to a custom backsplace for home or office environment.
Backsplashes can be made to fit most any space (kitchens, bath, office spaces) and is dependent on image quality and size. Image shown, utilizes only 6 -4 x 4 inch tiles and was surrounded by Subway Tiles for accent.
In many magazines featuring custom homes they often feature backsplashes with uniques scenes, tile designs or text. Why not create a kitchen or wine cellar feature with a custom image permanently imbedded in quartz tiles.
This feature can incorporate most any image. The size of the finished tile imags is not limited in most circumstances.
The image and design is your choice.
Great opportunity to enhance the look of a wine cellar, kitchen or bath room or office with a custom image (text or graphic).
Made of 4″ square tiles that are arranged in a grid that may be grouted or without grouting.
Quartz is the 4th hardest stone.
Same material used in high end applications such as counter tops.
Quartz will not scratch
Quartz will not stain in normal use
Image is permanently in the stone-the images are not baked-on or screen-printed on the surface of the stone-the image is in the stone
Can be cleaned with normal kitchen cleaning materials