Description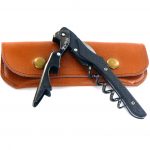 Hand-made in Italy and produced in limited edition. Built to last and be of a hand-crafted look and feel for many years.
Ferrari automobiles, Boeing, and Beechcraft Aircraft made this material famous. Along with most exotic sports cars manufactured in the world today.
You gotta to own this to appreciate it's unique character!